Digify Data Room
Year Founded: 2011
Headquarters: Sydney, NSW
Digify recenze datové místnosti
Poskytovatel datových místností Digify je v tomto sektoru relativně nový, byl založen v roce 2011 a sídlí ve Spojených státech. Je to první zastávka pro malé podniky a rozvíjející se giganty ve světě korporátního podnikání. Vládní a bankovní instituce také spoléhají na jejich služby při uzavírání obchodů a podpoře vynikající spolupráce.
Digify review umožňuje identifikovat klíčové silné stránky platformy. Patří mezi ně pokročilý systém šifrování, který chrání dokumenty před krádeží, stejně jako oprávnění k tisku a stahování.
Díky funkcím, jako je sledování dokumentů, bezproblémová integrace s Dokumenty Google, přizpůsobení, vodoznaky, zabezpečení dokumentů, statistiky souborů, upozornění v reálném čase a další, je to opravdu soutěž.
Poskytovatel datové místnosti Digify je k dispozici pouze v angličtině a je kompatibilní s operačními systémy web, SaaS, Linux a Windows s úložnou kapacitou 100 GB. K dispozici je 7denní bezplatná zkušební verze a také bezplatná ukázka, takže potenciální uživatelé mohou zjistit, jak snadné je použití. Klientům je k dispozici nepřetržitá podpora prostřednictvím e-mailu, telefonu a místních center.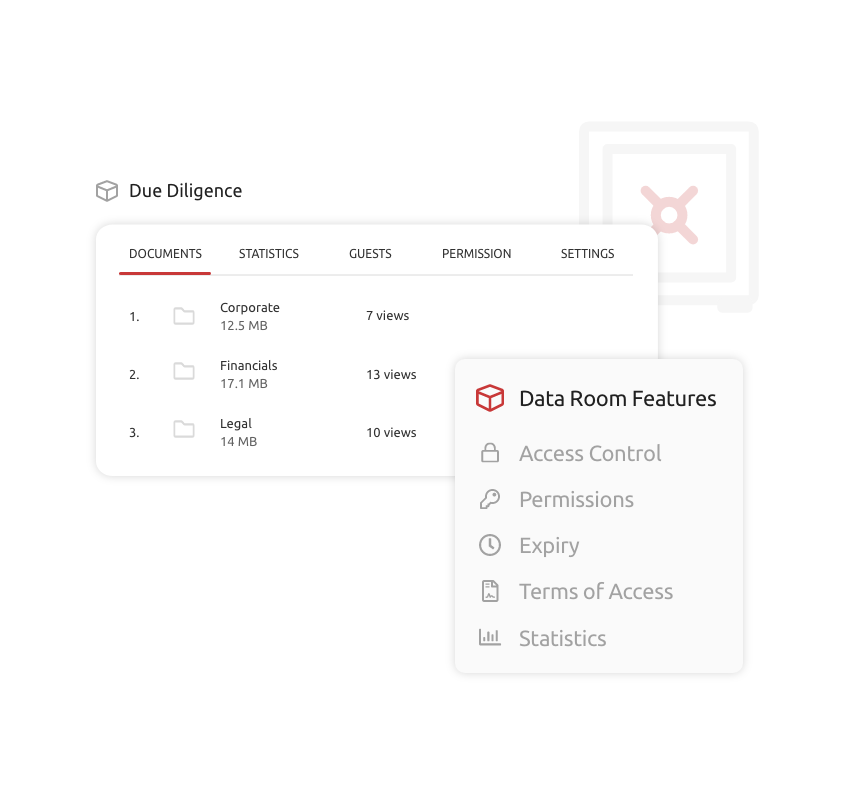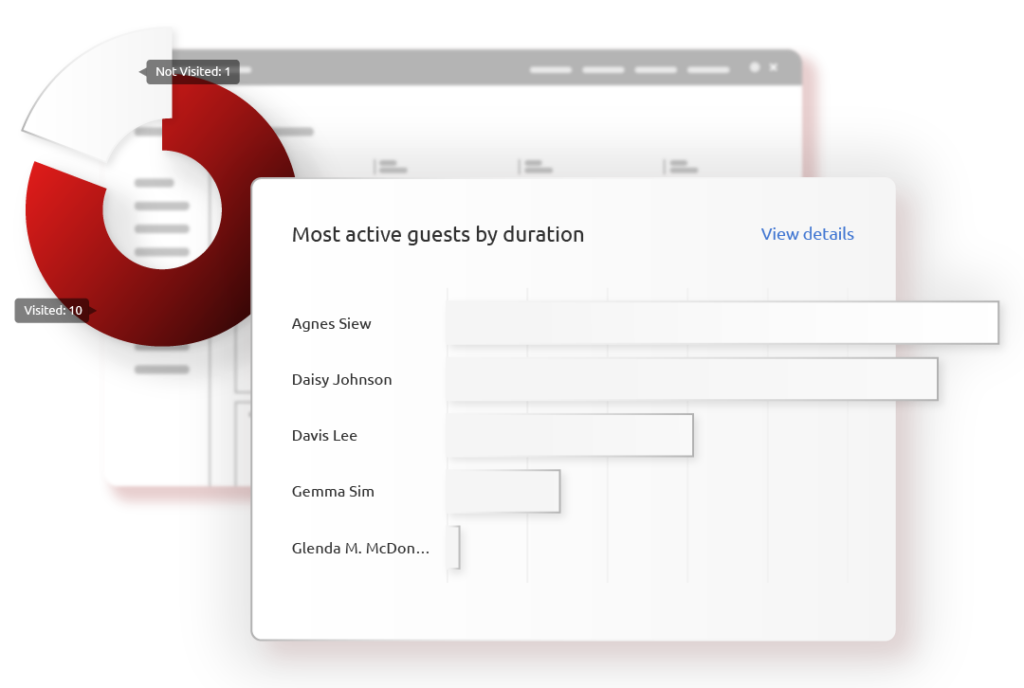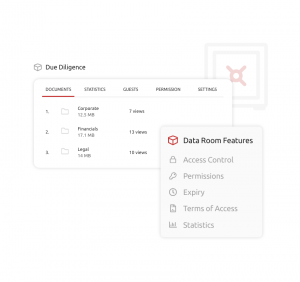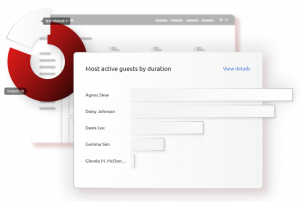 Ceny
Ceny za datové místnosti Digify: Ceny za datové místnosti Digify přicházejí ve třech různých cenových řešeních – plány Pro, Team a Business. Plán Pro je pro individuální potřeby, zatímco Team a Business jsou pro společnosti a jejich zaměstnance nebo partnery. Jejich plán Pro nabízí pouze tři datové místnosti, zatímco balíčky Team a Business poskytují 10 a 25. Všechny plány jsou dodávány se 100 GB úložiště s počáteční cenou 99 $ měsíčně a nabízejí různý počet datových místností.
Funkce
security & hosting
Two-Factor Authentications
ISO/IEC 27001:2013 Certified
SOC 1 Certified
GDPR Compliant Certified
HIPAA Compliant Certified
Data Backup
Access Expiration
Access Limitation by IP
99.9% Uptime Guarantee
SSAE 16 Certified
Virus Scanning
Multiple Datacenter Locations
accessibility & ease of use
Scroll-Through Document Viewer
Web-Based Spreadsheets Viewer
Mobile Device Interface
Search Filter by Name
Search Filter by Content
Automatic Numerical Indexing
Drag & Drop Upload
Desktop Synchronization
Export of Data Room Index to Excel
No Plugins
Optical Character Recognition
Filtering by Parameters
Archives Upload & Extraction
Document Version Control
Multilingual Documents Index
file protection & user management
Prevention of Download and Copy
Customizable Document Watermarks
Document Access Expiry
256-Bit SSL/TLS Encryption
Data at Rest Encryption
Granular User Permissions
Permission Groups
Mobile Device Management
Granular Document Permissions
View-Only Access
Remote Shredding of Documents
Secure Fence View
activity tracking & reporting
Real-Time Audit Trail
Graphic Reports
Exporting Reports to Excel
Tracking of Document Viewing Time
Tracking of All User Activity
Scheduled Reports
collaboration features
Basic Q&A Module
Secure User Messaging
New Document Email Notifications
Files & Folders Notes
Advanced Q&A Module
customization
Branded User Interface
Custom User Invitation Letter
Custom Access Agreements
Managed Encryption Keys
Custom Workflows and Features
Custom Domain
Custom Login Page
Active Directory Integration
Single Sign-On Integration
Integrations Through APIs
security & hosting
Two-Factor Authentications
ISO/IEC 27001:2013 Certified
SOC 1 Certified
GDPR Compliant Certified
HIPAA Compliant Certified
Data Backup
Access Expiration
Access Limitation by IP
99.9% Uptime Guarantee
SSAE 16 Certified
Virus Scanning
Multiple Datacenter Locations
accessibility & ease of use
Scroll-Through Document Viewer
Web-Based Spreadsheets Viewer
Mobile Device Interface
Search Filter by Name
Search Filter by Content
Automatic Numerical Indexing
Drag & Drop Upload
Desktop Synchronization
Export of Data Room Index to Excel
No Plugins
Optical Character Recognition
Filtering by Parameters
Archives Upload & Extraction
Document Version Control
Multilingual Documents Index
file protection & user management
Prevention of Download and Copy
Customizable Document Watermarks
Document Access Expiry
256-Bit SSL/TLS Encryption
Data at Rest Encryption
Granular User Permissions
Permission Groups
Mobile Device Management
Granular Document Permissions
View-Only Access
Remote Shredding of Documents
Secure Fence View
activity tracking & reporting
Real-Time Audit Trail
Graphic Reports
Exporting Reports to Excel
Tracking of Document Viewing Time
Tracking of All User Activity
Scheduled Reports
collaboration features
Basic Q&A Module
Secure User Messaging
New Document Email Notifications
Files & Folders Notes
Advanced Q&A Module
customization
Branded User Interface
Custom User Invitation Letter
Custom Access Agreements
Managed Encryption Keys
Custom Workflows and Features
Custom Domain
Custom Login Page
Active Directory Integration
Single Sign-On Integration
Integrations Through APIs